Storm Sewer
In order to collect run off from streets, parking lots, and buildings, all of which block the infiltration of water into the soil, storm sewers are installed to provide underground drainage of surface water.
In Fernie storm runoff is collected by numerous kms of underground storm sewers. These storm sewers capture rainwater or snowmelt from residential and commercial properties and discharges to the Elk River.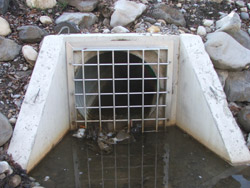 Additionally the City has prepared a Flood Response Plan [PDF - 24 KB] that outlines procedures for the protection, maintenance and safety of residents and property within the City boundary in the event of a flood situation.
Blocked Storm Sewers
To report a blocked Storm Sewer please complete a Request for Service report or call City Hall at (250) 423-6817.