Engineering & Mapping
Engineering
The Engineering Department maintains digital and hard copy maps for the City's legal survey base plan, waterworks, sanitary sewer and storm systems, and associated as-builts of new installation projects. We can provide information on: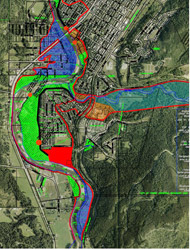 Impacts on water and sanitary systems
Traffic impacts and access
Storm water management planning
Overall conformance with City standards per the Subdivision and Development Servicing Bylaw
Legal plans
Water service locates
Public Inquiries
General details regarding property information, utility locations, cemetery inquiries, and City operational procedures and policies can be directed to the Engineering Department by:
Phone: 250.423.6817
Email: operations@fernie.ca
Mapping
For neighbourhood specific Winter Parking maps, visit the Winter Parking page.
Addressing and Zoning maps cane be found on our Maps page.
Recreational Trails map can be found here.