Fire and Emergency Services Department
Protective Services
The City of Fernie has a composite department consisting of 28 Auxiliary members and 8 career members. Our Department adheres to the BC Firefighters Playbook in our operations.
We provide road safety, fire supression, high angle rescues among other services to the community and area.
Fire Rescue
Emergency Calls 9-1-1
The City's Fire Rescue Services is proud to provide the following community services:
Fire suppression for Fernie and surrounding areas (defined by Mutual Aide Agreements)
First responder services, assisting BCAS (motor vehicle extrication & rescue)
Fire prevention inspections and public education
The services provided by Fernie Fire Rescue have been established under Fire Protection and Life Safety Bylaw. The bylaw authorizes members to:
enter premises or property where the incident occurred or any neighbouring premises or property and to cause any member, apparatus, or equipment to enter, as deemed necessary, in order to combat, control or deal with the incident; to charge fees for cost recovery;
cause the demolition of any building or part of a building which, in that member's judgment, should be demolished in order to prevent the spread of fire and further damage to property or injury to persons and possible loss of life;
enforce the Fire Code and any applicable municipal bylaws and regulations for the prevention and suppression of fires;
commandeer privately or publicly owned equipment, which is necessary to deal with an incident; and
regulate outside burning.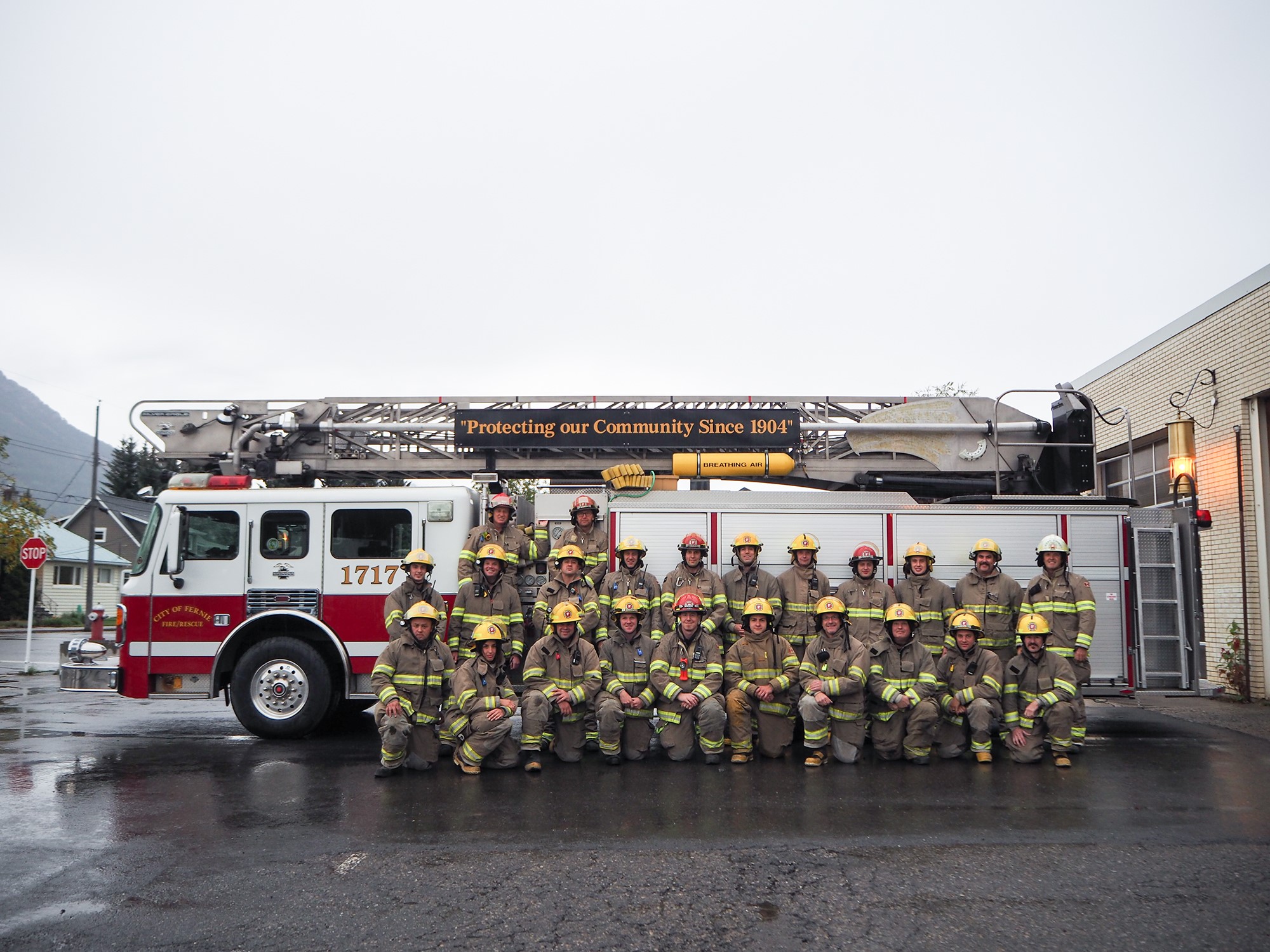 Fire Prevention and Public Education
Elementary schools and preschool-age daycares in Fernie receive the teaching Learn Not to Burn. The lessons and information, written with assistance from teaching professionals, are part of the school curriculum.
Lessons include:
Stop, drop and roll
Feel the door before opening
Dial 911
Meet at a safe place
The Fernie Fire Department schedules visits throughout the school year and works with the students during Fire Prevention Week. Fire Department Staff present the fire safety lessons in the classroom while firefighters answer questions and give students an opportunity to inspect the visiting fire truck.
Each year during Fire Prevention Week, five students from local schools get chosen to be "Fire Chief". The students get to visit the Fire Hall, ride in the Fire Truck and wear protective gear.
Smoke/Carbon Monoxide Detector Partnership
Fernie Fire Rescue, in partnership with Canadian Tire, are pleased to provide Smoke/Carbon Monoxide Detectors for those in need. Fernie Fire Rescue will now have access to the dual detectors to provide to elderly and vulnerable persons who may need assistance with the financial cost of purchasing or installation of the combination detectors.
The Department's focus for this pilot project is to assist the elderly and vulnerable persons who may need aid with the purchase and installation of the dual detectors. We thank Fernie Canadian Tire for their generosity and donation.
For more information on the dual detectors or if you know someone who may need one, please contact the Fire Hall at 250.423.4226
Recruitment
A career as a firefighter puts you on the front line for emergency response in Fernie. It is one of the most challenging, fast-paced and rewarding professions available—and it might be what you have been seeking for in a career.
As firefighters, we respond to fires and medical emergencies, complete training activities, conduct post-fire salvage and overhaul, conduct pre-planning activities, as well as equipment and station maintenance.
Basic Auxilliary Employment Requirements
High School Diploma preferred
18 years or older
Valid Class 5 Drivers License with airbrake endorsement preferred
Excellent Physical Condition
Application Forms
Resources
Please visit Canadian VOLUNTEER Firefighters website for more information on what it takes to be a Volunteer Firefighter.
Fire Permits
Bylaw No. 2029 Fire Protection and Life Safety outlines some of the following regulations with regards to outside burning and fire pits all of which require fire permits.The City of Fernie allows its residents the opportunity to have approved backyard fire pits. Properties with fire pits MUST comply with the Fire Protection and Life Safety Bylaw. It is unlawful for any person to light, ignite or start any outside fire within the City of Fernie Municipal Boundary unless a fire permit has been issued by the Director of Fire and Emergency Services.
Permits must be renewed each year. To obtain a permit, please fill out an application and attach a sketch with distances to property lines and buildings and drop off the information at City Hall. Please note that applications must be complete to be considered.
Bylaw No. 2029 Fire Protection and Life Safety
Backyard Fire Pit Permit Application - updated 2021
Fire Bans and Advisories
In the event of a fire ban or advisory, please check the link to BC Wildfire Service for updated information.
Additional Resources: