Cemetery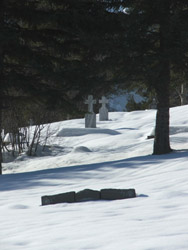 St. Margaret's Cemetery is located on St. Margaret's Road. Hours of operation are Summer Hours (April 1st - November 14th) 7:30 a.m. to 7:00 p.m. and Winter Hours (November 15th - March 31st) 7:30 a.m. to 5:00 p.m., Monday to Friday and 10:30 a.m. - 6:30 p.m. Saturdays and Sundays.
The City of Fernie owns and operates the cemetery situated along one of the City's upper benches surrounded by the beautiful Rocky Mountain Range. The cemetery has views of the Three Sisters Mountains and includes a heritage section which dates back to the late 1800's. In 1948 the City took over operation of the cemetery from the Crowsnest Pass Coal Company and expanded its operation.
Cemetery Services
Interment options at St. Margaret's Cemetery include:
Columbaria Niche
In-ground Cremation Space
In-Ground Burial Space
For more information please follow the links below or contact City Hall at (250) 423-6817.
Consolidated Cemetery Bylaw 1999, 2005 [PDF - 9.1 MB]
Fee Schedule [PDF - 23 KB]
Cemetery Map [PDF - 60 KB]
Memorial Marker Permit Application [PDF - 33 KB]
Tribute Program
The Parks, Facilities and Recreation Department offers opportunities to the public to honor or remember a special person or occasion through the Tribute Program. Benches, picnic tables, bike racks and other items are available to celebrate life and achievements.
Click here for detailed information about the Tribute Program.