Outdoor Courts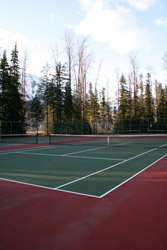 The City of Fernie owns and operates 3 macadam tennis courts in James White Park. Weather permitting, the courts are open daily from May 1st to September 30th for your recreational pleasure.
City of Fernie Tennis Club
Please support us in developing tennis in Fernie. All skill levels are welcome. Adult club night is Monday and runs from 6-10 pm, and junior night is on Tuesday, and runs from 4-6 pm. Tennis balls will be provided. Members benefit from involvement in social play, free entry to the Fernie Closed Tournament, courses run by coaches, discounts on stringing and more. Individual lessons can be arranged privately.
Please contact Sara McFarlane for further information about the club. She can be contacted at saramcfarlane@hotmail.com or by phone at (250) 423-0506.
For further information on camps, courses and lessons booked privately through Fernie Tennis Coaching, Lucy Harrup contact fernietenniscoaching@gmail.com or phone at (250) 946-7192.
Pickleball Courts
The City of Fernie owns and operates two pickleball courts in the Max Turyk Community Centre playing fields. These fields are open to the public from May - September (weather permitting).
The Picklenall Fernie Club welcomes the public to come out and play. The sport is great for physical, social and mental well-being. The Club meets outdoors on Monday and Saturday from 10 AM - 11:30 AM and Wednesday from 6 PM - 7:30 PM.
Club play moves indoors to the Fernie Community Centre Monday and Thursday from 10 AM - 11:30 AM and Tuesday 6 PM - 7:30 PM. The Club has volunteer instructors, balls and paddles for use. Indoor play requires non-marking footwear.
For more information on how to become involved in the Club, contact Larry DeMarchi at 250.423.7027 or demarcs@telus.net