Skateboard Park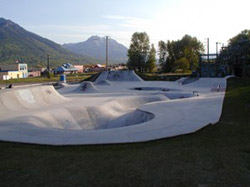 The Skateboard Park is currently under construction. We look forward to the new park opening in 2024!
The Skateboard Park is a concrete, outdoor facility located at the intersection of Pine Avenue and Ridgemont Drive, close to the Fernie Aquatic Centre.
The Park came into being through the commitment and dedication of a local group of citizens. Through their fund raising, grant writing, and pure dedication the park opened to the youth of our community in 2001.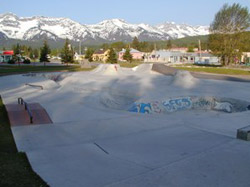 It's an excellent spot for skateboarding and BMX biking as it features several bowls and streetscapes including a tight snake run with 2 bowls (The Death Skillet and The Wok), 6ft half pipe, 8ft quarter pipe with banks, tight and mellow banks, funboxes, volcano and rails.