Outdoor Community Rink
Located adjacent to the Fernie Aquatic Centre at 250 Pine Avenue, the Outdoor Community Rink is an NHL-size natural ice rink (200 by 85 feet). The rink opened in 2017, thanks to generous donations from the Calgary Flames Foundation, National Hockey League (NHL), Canadian Arena Products, the Fernie Lions Club and numerous community donors.
The Outdoor Community Rink is a natural ice surface and therefore conditions regularly fluctuate due to weather. City of Fernie staff and volunteers monitor the rink and work hard to manage varying conditions, allowing the community to safely enjoy the ice.
Rink Status
Closed for the season!
Rules of Use:
Hours of operation are 10:00 am - 10:00 pm (weather dependent)
RED FLAG = CLOSED. GREEN FLAG = OPEN
No sticks or pucks permitted between 10:00 am and 3:30 pm daily.
Stick and puck users must yield to skaters and children.
Absolutely no entry onto ice during maintenance.
Drugs and alcohol strictly prohibited.
Helmets are strongly recommended.
Children should be supervised.
Private bookings are not available.
Abusive behaviour and/or foul language will not be tolerated.
Share the space and be respectful.
In case of emergency, call 9-1-1.
The site is monitored periodically to ensure compliance. Failure to adhere to these guidelines will result in closure of the Outdoor Rink.
Important information:
There is no cost for drop-in public skating.
There is no attendant on site.
Please respect the opeating schedule, posted rules for use, and all closures to ensure a safe and fun experience for everyone.
A porta-potty is available for use at this facility.
All closures are posted on-site at the rink.
When the rink is closed due to poor ice conditions, a closed sign is posted at the entrance and a red flag is up.
Refer to the Outdoor Rink Calendar online before heading to the venue.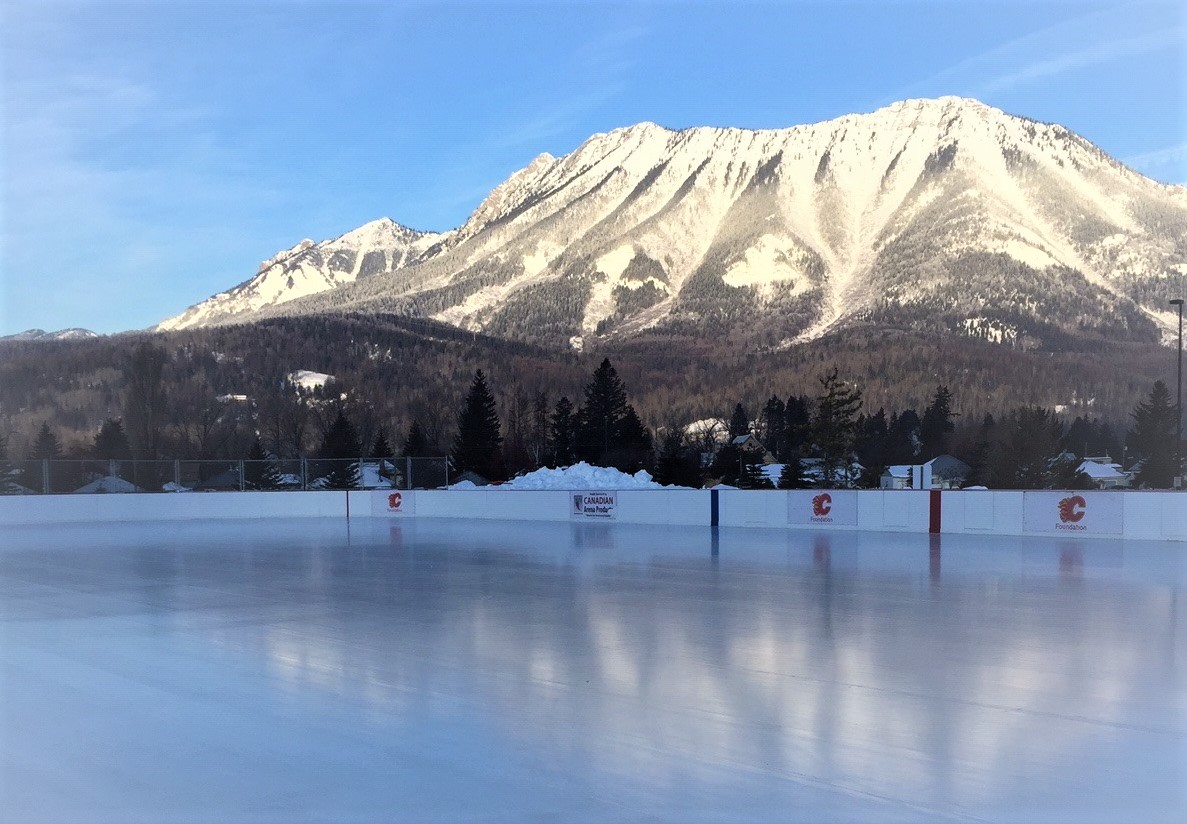 Natural Ice Surfaces
Outdoor ice skating is a popular activity in Fernie Parks. The City of Fernie does NOT monitor natural ice surfaces for safety, or mark any potential hazards.
The public is encouraged to educate themselves about ice safety before going onto the ice. If you choose to skate or play on natural ice, you do so at your own risk.
Many factors affect ice thickness, including type of water, location, the time of year and other environmental factors such as:
Water depth and size of body of water
Currents and other moving water
Chemicals including salt
Fluctuations in water levels
Logs, rocks, and docks abosorbing heat from the sun
Changing air temperature
The recommended ice thickness is:
15 cm (5.9 inches) for walking or skating alone.
20 cm (7.9 inches) for groups of people skating or playing games.
Tips for staying safe on ice:
Measure the thickness of clear hard ice in several areas as conditions may vary across a body of water.
Never go onto the ice alone.
Stay in well-lit areas.
Keep pets on leash near frozen bodies of water.
Wear a personal floatation device, life jacket, or thermal protection buoyant suit.
Have a rescue plan and know when to call 911.
Additional information on ice safety is available from Parks Canada and the Canadian Red Cross.