Water
The City of Fernie water system currently relies upon Fairy Creek as its main water source for serving the municipality and West Fernie. The Fairy Creek source is essentially a spring that is enclosed by a structure that directs water into a pipeline that supplies the system. The water is chlorinated and then piped to residents for consumption.
In addition to the Fairy Creek source, a second water source is being added to the water distribution system. Having James White Well as an additional water source means that during periods of high turbidity the City can still access safe and secure water for the community. As well the City constructed the new Northwest Reservoir to replace the Ridgemont Reservoir. This reservoir is able to hold more water and will help deal with peak usage periods more effectively.
Water Quality (Turbidity)
The City of Fernie measures turbidity levels on an ongoing basis and publishes the Water Quality Ratings each day.
FAIR:

What does a FAIR rating mean?

A Fair rating (Water Quality Advisory) is a notice that the City of Fernie will issue if turbidity levels exceed 1 NTU. Children, the elderly, people with weakened immune systems, and anyone seeking additional protection drink will be advised to drink boiled water or a safe alternative.

What does a POOR rating mean

?

A Poor rating (Boil Water Notice) is a notice we will issue if turbidity levels exceed 5 NTU's. All users will be advised to drink boiled water or a safe alternative.
Turbidity? What is it and how does it affect me?
Public Facilities [PDF - 200 KB] If you Serve the Public you need to know this!
If you wish to receive automatic email updates on water quality please contact City Hall or call 250.423.6817 to register.
Water Shut Off
To request a temporary water shut off please contact City Hall at (250) 423-6817. The cost is $12 to shut the water off, and an additional $12 to turn it back on. Please pay the Water On/Off fee at City Hall and allow 24 hours notice to schedule the work unless it is an emergency.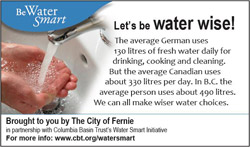 New Utility Services? Contact City Hall for information regarding a New Water or Sewer Service Connection.

Would you like information on the following?