Fernie Aquatic Centre
Pool Swim Schedule to September 3, 2016
The Aquatic Centre will be closed September 4th & 5th, October 9th & 10th, and November 11th & 12th, 2016. Fall swim schedule changes come into effect September 6th following the long weekend.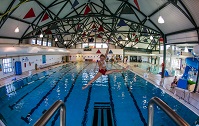 Public Swim & Lane Swim
Mon, Tue, Wed, Thurs, Fri (9am-7:30pm)
Sat (12pm - 6pm) *No lane from 2-4pm
Sun (12pm - 6pm)
Water Slide
Mon, Tue, Wed, Thurs, Fri (2pm - 4pm)
Sat & Sun (1pm - 5pm)
Active Fit
Mon, Wed & Fri (8:30am - 9:15am)
Tue, Thurs & Fri (10:30am - 11:15am)
Red Cross Swim
Mon, Tue, Wed, Thur & Fri (9am - 12pm)
Inflatable Toy Swim
Sat (2pm - 4pm) *No swim lane when toy is in the pool.
Programs and Swim Lessons
For information on Programs and Swim Lessons please visit Aquatic Programs. We are currently taking registrations for Fall Swim Lesson running September 12 to October 6, 20916. Drop in to register at the Aquatic Centre, 250 Pine Avenue or please call 250.423.4466 for details.
RATES: Please see the Leisure Services Aquatic Centre & Arena Admission Rates.pdf [PDF - 117 KB] for current pool admission rates with or without a Leisure Services Access Card.
The Fernie Aquatic Centre is a multi-purpose indoor facility providing both leisure and educational aquatic experiences for residents and visitors of all ages as well as access to a steam room, hot tub and water slide.
The facility includes four bodies of water:
a small leisure pool perfect for small children
an eight-lane 25m competitive pool, used for both casual lane swim fitness and competitive meets
a 25 person hot tub
Additional facility features:
steam room
pool viewing area
full service retail swimming boutique and swim accessory
Fitness Centre
The fitness centre located in the Fernie Aquatic Centre is open for business. Come and enjoy a workout on our treadmill, bike or weights after a nice dip in the pool.
Fernie Aquatic Centre
250 Pine Avenue
Fernie, BC
Inquiries: 250.423.4466