Special Events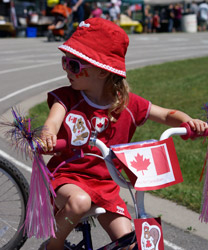 Fernie's list of special events is impressive by any standard. The summer season kicks off with a pantone of biking events bringing in riders of all levels to our extensive trails system. The Fernie Mountain Bike Club hosts a series of bike races that continue throughout the summer and early fall. The Furious 3, TransRockies, and Tears & Gears bike races are great spectator sports for all those that are not competing at that high level. The Club also puts together the Wam Bam Dirt Bike Jam which has become an annual hit with riders and spectators alike. For runners local events include Heiko's Hellish ½ Marathon, the Kids Triathlon and the Fernie ½ Marathon.
The Writers Conference is hosted in July and is always a big event for Fernie. All summer long you can visit Fernie on the weekends to shop for local art, crafts, and unique gifts at the Mountain Market and the Downtown Sunday Social. The Wapiti Music Festival is great entertainment for the whole family as well as the children's festival Bibbity Bobbity Boo.
The community hosts several film festivals throughout the year, with Canadian film and mountain culture themes. Canada Day in Fernie is the biggest celebration in the Elk Valley and always a great family day. The community really comes together for the annual winter festival Griz Days. All in all there is truly something for everyone when it comes to special events in Fernie. Check out the Fernie Chamber of Commerce for a full list of events.
Events on City Property Require a Permit
If you are planning a Special Event that requires use of City sidewalks or streets please submit your request in writing to the Director of Operations at cityhall@fernie.ca. If you wish to hold an event in one of our amazing parks or Community Centre please contact Sharon Switzer at sharon.switzer@fernie.ca .