Public Auction: Disposition of Abandoned Vehicles
September 27, 2021
Pursuant to Section 21 of City of Fernie Streets and Traffic Bylaw No.1400, notice is given that the City of Fernie intends to dispose of the following abandoned vehicles and property, by sale at public auction.
Public auction will be held on Saturday, October 2nd, 2021 at 10:00 AM- 12:00 PM at the Vehicle Impound Yard, 1401 Railway Avenue, Fernie, BC.
Sealed bids will only be received in-person only, on October 2nd, 2021 between 10:00 AM and 12:00 PM. No advanced viewing or bids accepted.
All vehicles and property will be sold as is, where is, with no warranty. Buyers must rely entirely on their own visual evaluation. Vehicles are sold without a Safety Certificate of Inspection and buyers must be 19 years of age or older.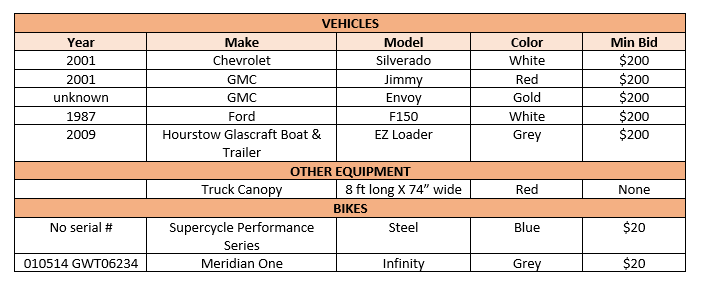 2021 COVID-19 Safety Plan
Event will be capped at 45 people in attendance at same time.
Limiting the event to 45 people will be enforced by Bylaw Officers, who will maintain a count while citizens' queue. If capacity is reached, a barricade with signage will be placed on the entrance of Railway Ave, stating to remain in vehicle, and return later.
Citizens will line up, 2 m apart outside of impound yard, near overflow parking lot adjacent impound yard. Dots every 2 m can be spray painted on parking lot adjacent to yard for adequate spacing.
One directional flow inside the impound yard will be indicated with barriers and signage.
Impound yard gates will remain open during the auction.
Citizens will be required to hand sanitize upon entry and exit of impound yard, indicated by signage.
No touching of vehicles will be permitted. Vehicles are to be auctioned off AS IS.
Bylaw Enforcement Officers will allow people into impound yard as the prior citizen has acquired 3 meters spacing and is advancing at a pace that will allow for 3 meters distance to be maintained between citizens.
Confidential bids will be accepted in writing at a table at the end of the impound yard. Pens will be sanitized between citizens. Sealed bids will be dropped into a cardboard box with citizen contact information, relevant vehicle and bid amount.
Highest bids will be contacted by the Monday, October 4th with further instructions for payment, and how to transfer vehicles into their ownership.
For more information, please contact Bylaw Services at bylawservices@fernie.ca or 250-423-2244.