Mountview Dike Improvements
June 8, 2020
This summer, the City of Fernie will be undertaking a major grant-funded construction project to upgrade the Mountview Dike.
The goal of this project is to improve the flood resiliency in the Mountview neighbourhood by extending the existing dike to provide better protection to residential and institutional properties in this area from the identified flood hazard.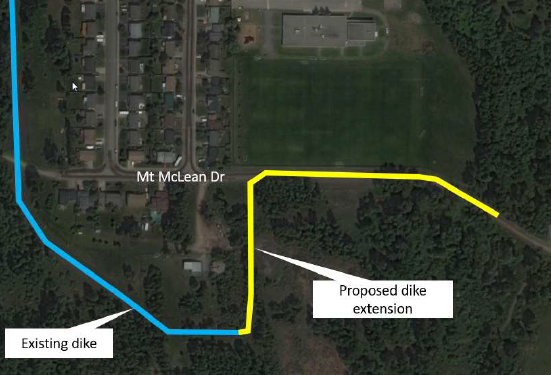 These improvements will protect critical City infrastructure including the Main Sewage Lift Station, the James White Wells Control Building and Mt McLean Drive, which is the secondary egress route for the Mountview neighbourhood.
The Mountview Dike Improvement project was identified as one of the top priority flood protection projects in the City's Flood Mitigation Plan that was completed in 2019 to identify and analyze flood hazards in Fernie. The City was successful in receiving $750,000 for the project from the UBCM Structural Flood Mitigation grant fund.
Within the Flood Mitigation Plan there are additional recommendations for improvements to the existing Mountview Dike, constructed in 1983, that will not be completed at this time due to budget constraints.
2020 Project Timeline
March – May: Detailed Design of Dike by Engineering Consultant & Permit Applications
April:
Bird Nesting Survey Completed by Qualified Professional
Tree Clearing of Dike Alignment
June: Project Tendered for Construction
Mid July – September: Dike Construction
October: Project Completion
Disruptions to residents and users of James White Park are expected to be minimal. For the safety of both crews and the public, residents are asked to respect any closures, and adhere to posted signage while the construction is completed.