Opportunity to Comment on Proposed Liquor License- Lounge Endorsement
August 3, 2017
Public notice is hereby given that Council for the City of Fernie is gathering the views of residents that may be affected by the application for Lounge Endorsement for the Fernie Distillers located at 531 – 1st Avenue.
Council will consider written submissions with respect to the change at the Regular Meeting to be held on Monday, August 14, 2017 at 7:00pm in the Council Chambers, in City Hall, 501-3rd Avenue, Fernie B.C.
Applicant: Fernie Distillers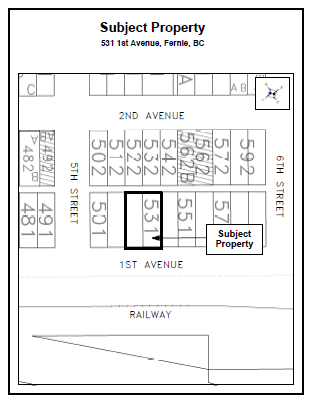 Location: 531 – 1st Avenue
Purpose: The applicant has applied to the Liquor Control and Licensing Branch (LCLB) for a Lounge Endorsement, which if approved, will allow the licensed distiller to sell liquor for on-site consumption in the approved lounge area and outdoor patio.
Total person capacity/ occupant load is not to exceed 58 persons for the proposed Lounge Area and 30 persons for the proposed Outdoor Patio.
Hours of Operation are Sunday to Saturday from 9:00am – 11:00pm for the Lounge Area and 9:00am to 10:00pm for the Outdoor Patio.
Persons who feel they may be affected by the Fernie Distillers application for Lounge Endorsement are invited to submit written comments to the Corporate Officer no later than 4:00pm on Monday, August 14, 2017.
The submissions will be taken into consideration by City of Fernie Council when formulating a resolution regarding the application that will be provided to the LCLB.
Written submissions can be provided by any of the following methods:
IN PERSON: Drop off written submissions at the receptionist desk, City Hall, 501-3rd Avenue;
By FAX: 250.423.3034
BY EMAIL: cityhall@fernie.ca
By Mail: City of Fernie, Corporate Administration Services, PO Box, 190 Fernie, BC V0B 1M0
All submissions must include your name and street number. (All written submissions are public information pursuant to the Freedom of Information and Protection of Privacy Act).
For more information, please contact Corporate Administration Services at (250) 423.6817.