Recreation & Fitness Programs
Indoor Walking Club
Improve fitness and enjoy a safe and temperature controlled environment.
Free program located at the Fernie Community Centre:
Tuesday and Wednesdays from 8:30am to noon
Thursdays from 8:30am to 10am.
Gymnastics
Fernie Leisure Services runs a recreational gymnastics and tumbling program for boys and girls starting at age 3yrs. Kids of all ages love to learn this sport in a safe, fun environment with a certified instructor. Contact the Fernie Aquatic Centre for more information 250.423.4466 (ext 0).
Fernie Minor Baseball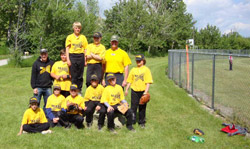 Fernie minor baseball is a non-profit strictly volunteer based organization that provides a minimum of a six week outdoor baseball season for Fernie's youth. The club participates in the chinook west division of little league of Alberta and play against all the communities from Sparwood to Claresholm.
Fernie Youth Soccer
Fernie Youth Soccer is a large sport group with an intake of 400 + children from ages 3 to 18 years of age. The season runs from May to the end of June. Find out more at the Spring Registration Fair held each year on the first Wednesday and Thursday of April.
Contact Information
Fernie Youth Soccer
For registration information please visit: ferniesoccer.com
Kidz Zone
A weekly after school club for children in Grades 4, 5 & 6. We play fun group games and activities, and enjoy snack time together . Contact Jez Wheeler on (250) 278-0657, or email kidzonefernie@gmail.com for more information.
MOM's Group
A hands-on family program for parents/caregivers and their pre-schoolers. The children enjoy quality supervised playtime while parents/caregivers share and discuss topics of interest to growing families.
Location: Fernie Heritage Library
Contact: ferniemomsgroup@gmail.com
The MOM's Group is free
Public Library
Story Time at the Library
The Fernie Public Library is located at 492 3rd Ave provides free weekly drop in programs for pre-school children.
Toddlertime is a playful loosely structured introduction to the library filled with songs, rhymes, finger play and picture books.
Contact the library at (250) 423-4458
Kindergym
A time for parents and children to have fun together with active play and a healthy snack. Gross motor activities and age appropriate games are included as well as songs, rhymes, and making music.
Location: Family Centre
$5 with a punch card $6 Drop-In
Parent Tot Fun Times
Come prepared to have fun with your little one. Structured circle time with lots of music, rhymes, tickles and giggles. The program invites children ages 0 to 6 and their parents/caregivers.
Parent Support Group
Rhyme Time
Play and Craft Time
Location: Community Centre
Contact Wendy Corkle (250) 529-7429
E-mail: ferncapc@cyberlink.bc.ca
Free
Strong Start
Parent and child are invited to participate in this interactive program for children aged 3 to 5 years (younger children are welcome). The time is filled with activities and fun in a classroom setting. A snack is provided and you can drop in or attend the whole session.
Monday thru Friday (except no school Fridays and Non-instructional days)
9:00 am to noon
Location: Isabella Dicken Elementary School
Free
Better Babies
If you are pregnant or have a new baby this is the place to meet other moms. A free lunch is provided and guest speakers are planned to discuss aspects of parenting & babies.
Location: Fernie Women's Centre
For more information (250) 423-4687
Free
Pre-School Programs
Fernie Creative Minds Preschool
With a focus on arts and crafts, Creative Minds Preschool helps children develop their fine motor skills. Watch children engage their imaginations through play and social role playing.
Contact Information:
Fernie Creative Minds Preschool
Max Turyk School
Phone: (250) 423-1144
Bright Beginnings Preschool
Bright Beginnings' main focus is encouraging and supporting social interaction between children in a creative and healthy setting, striving to build confidence through various activities.
Contact Information:
Bright Beginnings Preschool
Fernie Learning Centre 1601 2nd Ave.
Phone: 778-519-5288
email: brightbeginningsferniebc@gmail.com
website: www.brightbeginningsfernie.com
Fernie Early Childhood Development
An organization committed to ensuring that resources, spaces and relationships exist within our communities that make it possible for children and families to reach their fullest potential.
Contact Information:
Fernie Early Childhood Development
Phone: (250) 423-6225
Email: jodparker@shaw.ca
Website: www.ekkids.ca