Aquatic Programs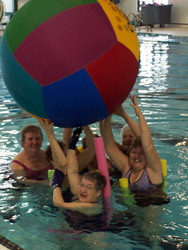 The Fernie Aquatic Centre offers a full list of programming, including swimming lessons, lifeguarding courses, and drop-in programs.
Swim Lesson Registrations
Once lesson sets are available for enrollment, participants can be registered using Recreation Online.
Classes fill up quickly. If the lesson set is full, be sure to place the participant on the waitlist. We create new lessons whenever possible to accommodate waitlisted children.
To ensure registration goes smoothly, we recommend you:
Contact the Recreation desk at 250-423-4466 to confirm your child's skill level.
Go to Recreation Online and click, "Sign Up/Sign In" to create an account, or check your login and password are working.
Ensure children and family members are added to your account before registration day. Browse through the available lessons sets and select your top choice ahead of time.
Save your selected lesson by clicking the heart icon next to the activity and add it to your wish list. When registration opens, simply log in to your account, return to your wish list and complete your transaction
Swim Lessons
The Fernie Aquatic Centre offers swim lessons throughout the year. Upcoming lesson schedules are available at Recreation Online.
Parent and Tot Swim Lessons
Geared for children age 3 months to 2 years, our drop-in Parent and Tot lessons are a great way to introduce your little one to the water. Lessons are free with admission.
Active Fit
This is a 45 minute higher intensity water workout, utilizing both shallow and deep water. For those that would like a high pace workout with less joint stress, this is for you! This drop-in program is free with the price of admission.
Gentle Fit
This is a 45 minute lower intensity workout. Ideal for those with joint ailments or injuries. Get fit with this workout without a lot of stress to the joints. This drop-in program is free with the price of admission.
Become a Lifeguard or Instructor
If you have a desire to learn more about the field of Aquatics, or maybe you once were a lifeguard and want to get back in the game, the Fernie Aquatic Centre is the place for taking your aquatics to the next level!