Aquatic Programs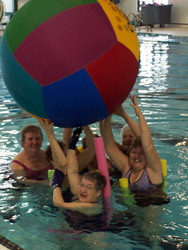 The Fernie Aquatic Centre is a great place to be on any day of the week, with a full offering of swimming lessons, lifeguarding courses, and drop-in programs.
Swim Lesson Registrations
Registration for swim lessons can be done online or in-person beginning once registration opens for a particular lesson set.
Follow these simple steps to make sure your account is ready to go for registration day:
Returning and new customers need to visit the Aquatic Centre, during regular business hours, to update or set up a new customer profile.

Once you have updated and/or established your account, you will receive an email outlining the additional steps required to register online.
Once you have an online account you can sign in here to register online.
Swimming Lesson
The Fernie Aquatic Centre offers swim lessons throughout the year. Check out the schedule for upcoming lessons:
We also offer ½-hr private lessons, and semi privates on select days. Available times for private lessons are advertised on the swim lesson schedule. Private lessons must be booked in person.
Other programs are available at select times throughout the year, check our online registration platform to see what is being offered!
Parent and Tot Swim Lessons
Geared for children age 3 months to 2 years, our drop-in Parent and Tot lessons are a great way to introduce your little one to the water. Lessons are free with admission.
Active Fit
This is a 45 minute higher intensity water workout, utilizing both shallow and deep water. For those that would like a high pace workout with less joint stress, this is for you! This drop-in program is free with the price of admission.
Gentle Fit
This is a 45 minute lower intensity workout. Ideal for those with joint ailments or injuries. Get fit with this workout without a lot of stress to the joints. This drop-in program is free with the price of admission.
Become a Lifeguard or Instructor
If you have a desire to learn more about the field of Aquatics, or maybe you once were a lifeguard and want to get back in the game, the Fernie Aquatic Centre is the place for taking your aquatics to the next level!