Outdoor Community Rink
The Outdoor Community Rink is CLOSED for the season.
Thank you to everyone who helped make this a successful season of outdoor skating! Hope to see you next winter!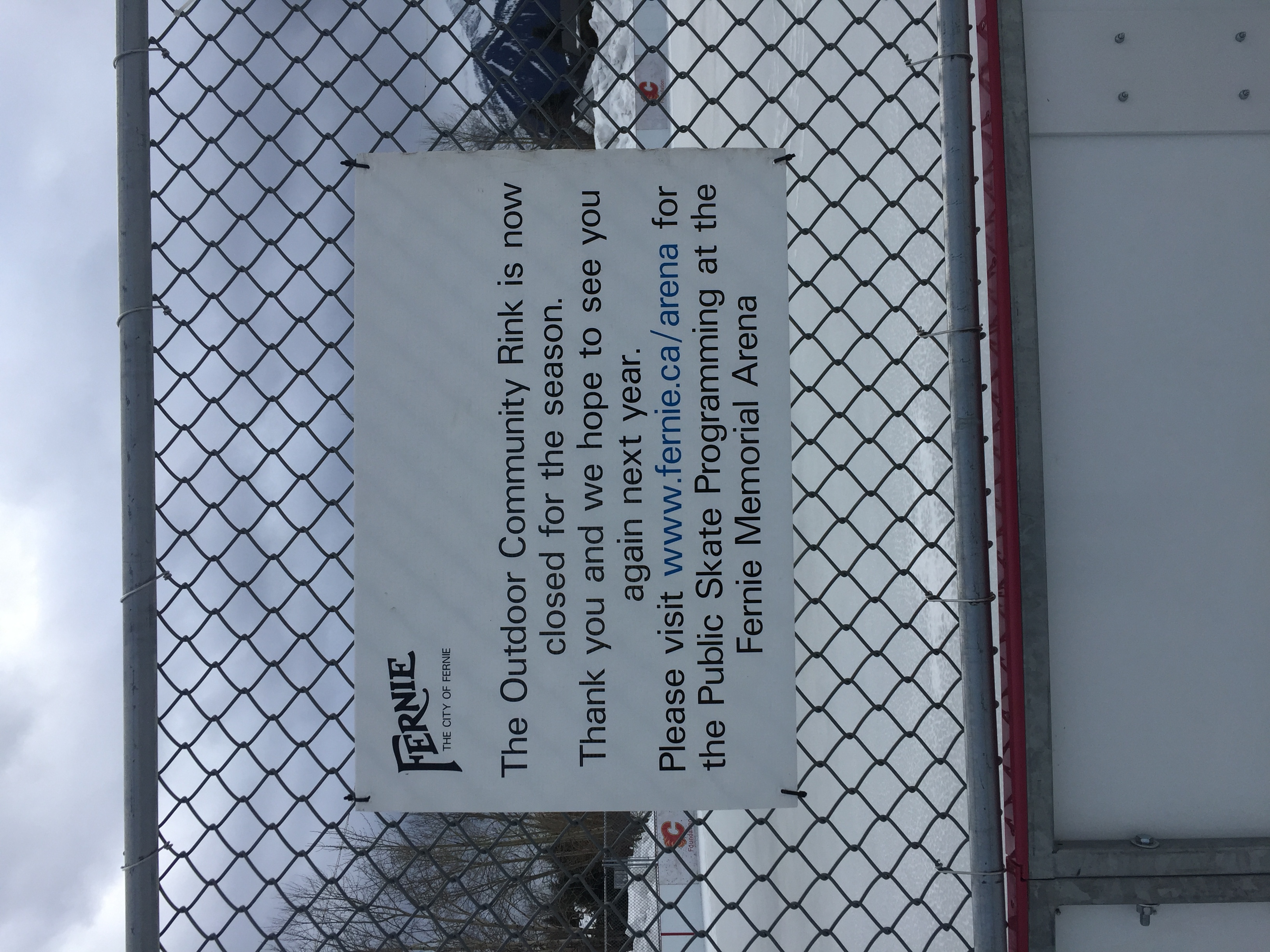 Located adjacent to the Fernie Aquatic Centre at 250 Pine Avenue, the Outdoor Community Rink is an NHL-size natural ice rink (200 by 85 feet). The rink opened in 2017, thanks to generous donations from the Calgary Flames Foundation, National Hockey League (NHL), Canadian Arena Products, the Fernie Lions Club and numerous community donors.
The Outdoor Community Rink is a natural ice surface and therefore conditions regularly fluctuate due to weather. City of Fernie staff and volunteers monitor the rink daily and work hard to manage varying conditions and keep the rink open for the community to safely enjoy.
Please become familiar with and respect the following rules and regulations:
Maximum occupancy is 30. If occupancy exceeds 30, please leave the area.
Hours of operation are 10:00 am - 10:00 pm (weather dependent)
RED FLAG = CLOSED. GREEN FLAG = OPEN
No sticks or pucks permitted between 10:00 am and 3:30 pm daily
Stick and puck users must yield to skaters and children.
Absolutely no entry onto ice during maintenance.
Drugs and alcohol strictly prohibited.
Helmets are strongly recommended.
Masks are encouraged.
Children should be supervised.
Private bookings are not available.
Abusive behaviour and/or foul language will not be tolerated. Share the space and be respectful.
In case of emergency, call 9-1-1.
The site is monitored periodically to ensure compliance. Failure to adhere to these guidelines will result in closure of the Outdoor Rink.
All closures are posted on site. When the rink is closed due to poor ice conditions, a closed sign is posted at the entrance and a red flag is up.
There is no cost for drop-in public skating. Please note there is no attendant on site and the public is asked to respect the schedule, posted rules for use, and all closures to ensure a safe and fun experience for everyone. A porta-pottie is available for use at this facility.
Natural Ice Surfaces
Outdoor ice skating is apopular activity in Fernie Parks. The City of Fernie does NOT monitor natural ice surfaces for safety or mark potential hazards.
Many factors affect ice thickness, including type of water, location, the time of year and other environmental factoes such as:
Water depth and size of body of water
Currents and other moving water
Chemicals including salt
Fluctuations in water levels
Logs, rocks, and docks abosorbing heat from the sun
Changing air temperature
Additional information on ice safety is available from Parks Canada and the Canadian Red Cross. If you choose to skate on natural ice, you do so at your own risk. The recommended ice thickness is 15 cm (5.9 inches) for walking or skating alone, and 20 cm (7.9 inches) for skating parties or games.
Popular ice-skating areas within Fernie:
Maiden Lake
A small man-made lake located in Fernie with water levels that rise and fall in relation to the Elk River. Inlets and outlets have potential for current that constributes to thin ice or exposed water areas. Avoid inlets and outlets and do not assume an even ice thickness across the lake. There are currently no washroom facilities available at Maiden Lake.
Annex Park Pond
A shallow pond with controlled inlets and outlets to the Elk ROver. Areas of the pond and streams around Annex Park have current and therefore ice thickness can vary. Avoid inlets and outlets and do not assume an even ice thickness across the pond or frozen streams within Annex Park. A single concrete outhouse is available at the park entrance.