COVID-19 Updates
Last Updated Thursday, May 5, 2021
BC COVID-19 Immunization Plan Announcement
The Province has announced the next phase of BC's COVID-19 Immunization Plan. As of April 26, adults 18+ can register to receive their vaccine:
Register online at https://www.getvaccinated.gov.bc.ca/
Register by phone at 1-833-838-2323
Additional information: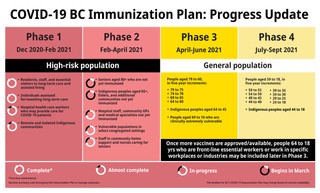 Parks, Facilities and Recreation Re-Opening Schedule

Individuals, families, and businesses may be eligible for financial help. For more information, please visit the province of BC's Support for Individuals and Families page.
The province also has virtual mental health supports during COVID-19 in addition to links to free or low-cost counselling.
COVID-19 testing is available in the Elk Valley by appointment only through the Sparwood Health Centre. Testing is not recommended if you do not have symptoms.
You can book an appointment online through the COVID-19 Test Booking form. By phone, call 1-877-740-7747.
Please follow all Public Health Orders and Guidelines:
The current health order is in effect from November 19, 2020 at midnight until further notice
Masks are mandatory in all public indoor and retail spaces in BC.
Avoid all non-essential travel. This includes travel into and out of BC and between regions of the province.
No social gatherings of any size with anyone other than your household or core bubble.
Council Meetings (updated October 28, 2020)
For information on how to participate in Regular and Committee of the Whole meetings, please go to Participate in a Council Meeting.
--
The City of Fernie is supporting the
Government of British Columbia's
Restart Plan. We are currently in
PHASE 2
.
The expectation is that everyone wears a mask in all indoor public spaces.
Bylaw Enforcement of Public Health Orders
Municipal Bylaw Officers across BC have been directed by the Province to assist with the compliance and enforcement of public health orders related to the COVID-19 public health emergency.
If you have concerns regarding compliance with any of the Public Health Officer's orders, please contact bylawservices@fernie.ca.
COVID-19 Emergency Response
The monitoring of, and response to, COVID-19 is being led by Local, Provincial and Federal Health Authorities, not local government.
The City has activated its Emergency Operations Centre (EOC) so that we can support agencies responding to the health emergency, and we are currently supporting the activites of the Interior Health Authority. We have a dedicated team of staff working in conjunction with the Regional Emergency Operations Centre (REOC) to ensure a coordinated response.
The City of Fernie is supporting directives from Provincial and Federal Health Authorities to practice physical distancing and self-isolation to prevent the spread of the disease in our community.
The Regional District of East Kootenay will be providing daily updates on how COVID-19 is affecting our region. Sign up for daily updates here or visit the RDEK Facebook page.
Impacts on City Business?
In response to the provincial health emergency, the City has closed all municipal facilities, playgrounds, sports fields, and outdoor washrooms until further notice. City staff will continue to provide essential services throughout the emergency. City staff are available via email or telephone to assist with inquiries regarding regular city business from Monday- Friday 8am-4pm.
Email: cityhall@fernie.ca
Phone: 250-423-6817
Council will continue to hold regular meetings using remote meeting technology. Following a ministerial order issued by the Province on March 26, the public will be unable to attend these meetings in person, but you are encouraged to watch upcoming Council meetings online. Click here to watch Council meetings live or view recorded meetings.
City Suspends All Off-Leash Dog Park Designations
To help with physical distancing and reduce interactions between people, the City of Fernie has temporarily suspended all off-leash dog park designations.
While the COVID-19 public health emergency persists, dogs are required to be on leash everywhere in the City of Fernie.
Updates from the Elk Valley Hospital Physicians
Please read these important bulletins from Elk Valley Hospital Physicians.
Phone Numbers
COVID-19 Information Line - 1- 888-COVID19 (1-888-268-4319) The line is for non-health COVID-19 information. It's open seven days a week, from 8:30 a.m. to 9 p.m. MST
811 - dial 811 for health related information on COVID-19
211 - dial 211 for support to match seniors whose support network has been affected by COVID-19 with volunteers to help with basic needs like grocery shopping, pharmacy drop offs and check-ins
Crisis Line: 1.888.353.2273 - free, anonymous support
Kids Help Phone: 1-800-668-6868
Online Links
COVID-19 Self Assessment Tool & App - use this online tool to complete a self-assessment & get updates.
BC Centre for Disease Control - includes information on their testing protocols.
Interior Health - includes information and resources for interior communities
Government of Canada - statistics, travel info and economic and financial supports available federally.
Province of BC Information Hub - links to Provincial supports for non-health information (childcare, travel, employee/employer resources, business support)
I want to help my community. What can I do?
Local, Provincial and Federal Health Authorities are requesting the public to support the reduction of COVID-19 transmission by practicing physical distancing, self-isolation and following recommended personal hygiene guidelines.
If you need help with the pick up of groceries, prescriptions or other essentials, OR if you are a volunteer willing to help others in need, several grassroots initiatives have started in our community. To request assistance or offer your support, please contact the following groups directly.
Elk Valley COVID Support Team - Providing support with grocery and prescription delivery, emotional support and spiritual care
211 - 211 service will take calls from people who would like to volunteer to help seniors in their community with basic needs, including grocery shopping and pharmacy drop-offs and checkins. They will then share it with local community agencies to match seniors and volunteers who live in the same community.
Salvation Army Fernie – Proving food bank services.
Fernie Fresh Food Share – Providing access to fresh and healthy groceries for anyone in the community in partnership with the Salvation Army food bank.
Want to support local businesses during this challenging time? Tourism Fernie and the Fernie Chamber of Commerce have compiled a list what businesses are open, closed, have reduced hours or are offering delivery or curbside pick-up options.