Annex Dike Improvements Project
Background
In 2019, the City of Fernie commissioned and completed a Flood Mitigation Plan, which identified flood hazards based on existing flood protection infrastructure and new floodplain mapping from the 2017 Elk River and 2014 Coal Creek studies. Many of the existing dikes were determined to be too low, and additional gaps in flood protection were identified throughout the community. The recommended mitigation measures throughout the City were prioritized based on the associated risks using a likelihood and consequence of failure methodology (for more detail, please go to the 2019 Flood Mitigation Plan).
The Annex Dike Improvements Project is the City's third major flood mitigation and protection initiative in the last three years (including the Mountview Dike and Northlands "Maiden Lake" Dike projects). The Annex Dike protects the 900+ residences,113 commercial properties, 6 indistrial properties, and 2,000+ citizens living in the Annex neighbourhood, and is an investment in community resilience through prevention of future catastrophic economic losses caused by flood damage.
The project is wholly-funded through Government of Canada and Province of British Columbia grants. For more information, please refer to the Investing in Canada Infrastructure Program.
Location
The project area is in the municipally owned and operated Annex Park, one of Fernie's largest and most heavily used parks. The Annex Dike is approximately 1,800 meters long and extends from the Leo T. Nimsick Bridge to the West Fernie Bridge on the east bank of the Elk River. The upstream-most 250 meters and downstream-most 400 meters of dike are located directly along the riverbank, and the middle 1,150 meters of dike is set back 40 to 140 meters from the bank of the Elk River: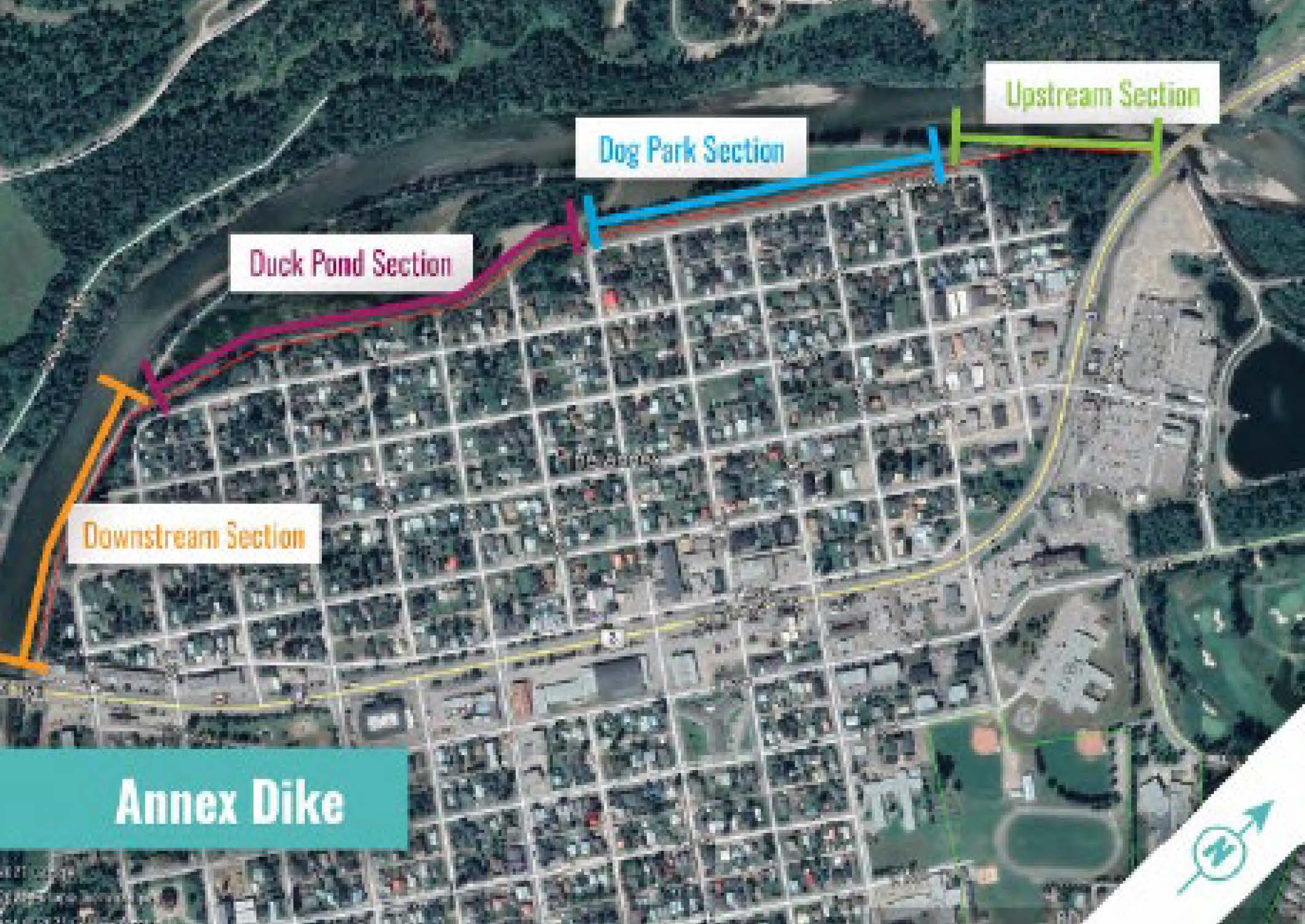 Critical Infrastructure
In addition to the businesses and residences, the Annex contains critical municipal infrastructure that is currently under-protected by the City's existing diking system, including primary and secondary egress routes/roads that provide general and emergency access to and from the neighbourhood, and water, sewer, and storm trunk mains and Sewage Lift Stations through which a significant portion of the neighbourhood's municipal wastewater is processed.
Rationale
The 2019 Flood Mitigation Plan assessed the Annex Dike as a high risk, based on both the likelihood and consequences of flooding. The Annex Dike crest elevation is lower than the Flood Construction Level (FCL) along the length of the dike, with the average departure from FCL at approximately 0.6 - 1 meter. The side slopes and crest width of the dike are steeper and narrower than BC Dike Design & Construction guidelines, and the portions of dike located along the riverbank have erosion protection that is over-steepened and has voids due to disintegrating rock. Therefore, upgrades to the existing dike to bring it up to the appropriate FCL and correct erosion protection deficiencies are well justified.
Project Activites
Raising of the dike along the 1,800 linear meters of the existing dike to identified flood construction level
Reconstructing the dike slope and crest
Improving erosion protection
Workplan and Schedule
Site Survey; Hydrotechnical, Environmental Investigations and Assessment - Spring 2021
Detailed Design - Summer 2021
Environmental Regulatory Permits - Summer 2021
Public Consultation - Summer 2021
Site Preparation - Spring 2022
Construction - Spring - Fall 2022
Completion and Reporting - Fall 2022
For more information, please contact:
Mark Rowlands, P. Eng, MA, EP
Director of Operations
City of Fernie
PO Box 190
501 3rd Avenue
Fernie, BC V0B 1M0
mark.rowlands@fernie.ca