Wildfire Preparedness
July 19, 2018
With continued hot, dry weather the BC Wildfire Service is reporting a rapid growth of extreme and high fire ratings around the Southeast Fire Centre, including the East Kootenay area.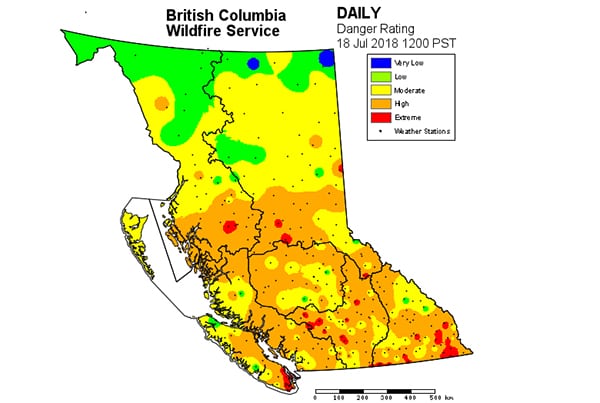 The majority of the Elk Valley is now rated as either high or extreme. High fire ratings mean forest fuels are very dry and the risk of fire is serious. At this time, a Category 2 Open Fire Restriction is in effect. Category 2 includes the prohibition of any piled or unpiled material larger than a campfire, burning of stubble grass, use of fireworks and sky lanterns.
Campfires should not be lit or kept burning during windy conditions. Anyone who lights a campfire must ensure that sufficient water, tools and people are on hand to contain it. Make sure that the fire is fully extinguished, and the ashes are cold to the touch before leaving the area for any length of time.
We would like to remind residents that you can help reduce the risk of wildfire on your property and in our community. The FireSmart Initiative has tips you can follow to help reduce the threat of wildfire in Fernie. "Wildfire safety is something ordinary citizens - you, me, our neighbors, need to work together on to reduce our risks," states Fernie Fire Chief Ted Ruiter.
To report a wildfire or irresponsible behaviour call 1 800 663-5555 or *5555 from a cell phone. Information from the public is crucial to ensuring wildfires are responded to as soon as possible.
More Information:
Preparing for Emergencies: