Aquatic Programs
We have Red Cross Swimming Lessons, Life Guard Programs and other programming available to the entire family.
Swimming Lessons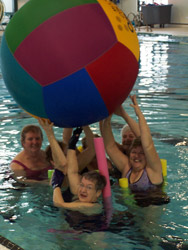 The Fernie Aquatic Centre is a great place to be on any day of the week. We offer a 45-minute diaper fit program for babies and moms. Babies will need to be of sitting up age to be placed in a secure floatation boat with mom at their side participating in an interactive and fun aqua-fit class. Also available for kids under 5 years are sets of Red Cross Swimming Lessons.
Active Fit & Gentle Fit
The Fernie Aquatic Centre has Active Fit and Gentle Fit classes running regularly throughout the week.
Diaper Fit
In this 45-minute program tots will be placed in a secure floatation boat so caregiver & baby can take part in a fun aqua-fit class.
Private Swim lessons
½-hr lessons can be booked with an instructor on the weekend or one-day swim lessons are available upon request and if an instructor is available.
Become a Lifeguard or Instructor
If you have a desire to learn more about the field of Aquatics or maybe you once were a lifeguard and want to get back in the game, the Fernie Aquatic Centre is the place for taking your aquatics to the next level. The Aquatic Attendant Certification is an excellent way for a young person to get their foot in the door and start a promising career in Aquatics! Junior Lifeguard Club provides skills and training for children to develop safe attitude and practice around water. This can impact your child's life in an aquatic emergency!
For information on Swimming Lessons or Aquatic Programs please contact Leisure Services at 250-423-4466.