Aquatic Programs
Swimming Lessons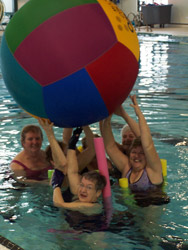 The Fernie Aquatic Centre is a great place to be on any day of the week, with a full offering of swimming lessons for all-ages.
½-hr private lessons can be booked with an instructor on the weekend or one-day swim lessons are available upon request and if an instructor is available.
Active Fit & Gentle Fit
The Fernie Aquatic Centre has Active Fit and Gentle Fit classes running regularly throughout the week.
Diaper Fit
In this 45-minute program tots will be placed in a secure floatation boat so caregiver & baby can take part in a fun aqua-fit class.
Become a Lifeguard or Instructor
If you have a desire to learn more about the field of Aquatics, or maybe you once were a lifeguard and want to get back in the game, the Fernie Aquatic Centre is the place for taking your aquatics to the next level!
Junior Lifeguard Club

The Junior Lifeguard Club is a an alternative to traditional test-sheet-based aquatic programs. The Club stresses fun and aquatic skill development based on personal-best achievement. Building on skills they already have. Members work to develop and improve swimming and other aquatic skills with emphasis on : Swimming skills, Lifesaving knowledge, Leadership and teamwork, Community education, Competition, Personal Fitness.
Dates: July 31st, August 2nd,4th,9th, and 11th 2017
Times : 1:00pm – 2:30pm
Price: $75.26
Bronze Medallion Course
The Bronze Medallion course teaches an understanding of the lifesaving principles embodied in the four components of water rescue education – Judgment. Knowledge, skill and fitness. Rescuers learn self-rescue techniques, defense and release methods, and rows and carries in preparation for challenging rescues involving conscious and unconscious victims of various types, including spinal injuries and circulatory emergencies. Lifesavers develop stroke efficiency and endurance in a timed swim. This Course includes the CPR-A certification.
Prerequisites: Ability to swim. Bronze Star or 13 years of age by the last day of the course.
Dates / Times - Aug 14-16th 2017 – Monday / Tuesday 11:00am – 6:30pm, Wednesday 11:00am – 3:00pm
Price : $245.78 this includes Manual
Bronze Cross Course
The Bronze Cross Lifeguard Course is designed for lifesavers who want the challenge of more advanced raining including an introduction to safety supervision in aquatic facilities. Candidates develop proficiency at performing, patient assessments, managing aquatic spinal injuries, and prevention the loss of life in a variety of aquatic emergencies, while developing stroke endurances and fitness training skills. The Bronze Cross Lifeguard Course includes the CPR-C certification and is one of the pre-requisite awards for the advanced Lifeguarding and Leadership.
Prerequisites: Bronze Medallion
Dates : Aug 16th – 18th 2017
Times: Wednesday 3:00pm – 6:30pm, Thursday and Friday 11:00am – 6:30pm
Price: $183.46 manual not included

Red Cross Standard First Aid
The Canadian Red Cross Standard First Aid (SFA) is a comprehensive course which gives participant's the ability to deliver a higher level of first aid treatment in different environments. After completion of the course, you will be prepared for a verity of first aid situations, bother life threatening and non-life threatening. Standard First Aid includes all EFA course content plus victim management. Heat and cold injuries, bone and joint injuries, sprains, wounds, head trauma, diabetes, burns and poisons. SFA includes CPR Level C Basic Rescuer Certification.
Prerequisites: 13 year of age.
Dates: Aug 24th and 25th 2017
Times : 8;00am – 4:00pm
Price: $192.86