Aquatic Programs
Swimming Lessons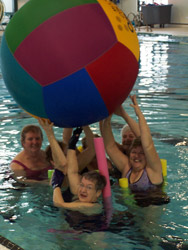 The Fernie Aquatic Centre is a great place to be on any day of the week, with a full offering of swimming lessons for all-ages.
We also offer ½-hr private lessons, and semi privates on select days.
Other programs are available at select times throughout the year, check with the Fernie Aquatic Centre 250-423-4466 to see what is being offered!
Parented Swim Lessons
Geared for children age 4 months to 3 years, our parented lessons are a great way to introduce your little one to the water.
Active Fit
This is a 45 minute higher intensity water workout, utilizing both shallow and deep water. For those that would like a high pace workout with less joint stress, this is for you!
Gentle Fit
This is a 45 minute lower intensity workout. Ideal for those with joint ailments or injuries. Get fit with this workout without a lot of stress to the joints.
Become a Lifeguard or Instructor
If you have a desire to learn more about the field of Aquatics, or maybe you once were a lifeguard and want to get back in the game, the Fernie Aquatic Centre is the place for taking your aquatics to the next level!